E-Commerce Stores & solutions
We offer full-service experiences that go beyond a traditional branded merchandise platform.
Running a successful branded merchandise e-commerce program requires more than just launching a website filled with products. It takes a dedicated team of experts to craft multi-channel experiences that translate to real-world returns. Our product design, marketing, and sales departments will work hand-in-hand with your brand to keep customers engaged both with the product and the content.
Since 2019, we've had the pleasure of partnering with internationally known snowmobile manufacturer, Arctic Cat, to host and manage their official branded merchandise e-commerce store. From this store, we sell snowmobile jackets and pants, apparel, performance gear, headwear, and accessories. More than just an e-commerce platform, we create engaging, flexible, and expandable marketing and merchandising platforms that are constantly growing and adapting to Arctic Cat's ever-changing needs.
To better suit the branded merchandise needs of both dealer and consumer audiences, the Arctic Cat Store involves custom-built enterprise-level features and security functions that allow customers to shop with ease. With customer engagement at our highest priority, we developed a custom marketing plan that focuses on direct dealer outreach, event support, digital marketing, and traditional print marketing – all of which are constantly refined based on data collection.
Fulfillment of the e-commerce store inventory filters directly through our warehouse at Powertex. With most of the operation in-house, we are able to quickly organize the logistics of every order to ensure up-to-date inventory and on-time shipping schedules.
See how it all comes together!
Custom built store for
Arctic Cat Gear
Custom branded by our web development team, the Arctic Cat Gear online store emulates the look and feel of the Arctic Cat site to create a seamless experience for all users. Designed with enterprise-level features and functions and backed by the highest level of security, the Arctic Cat Gear Store allows customers to shop with ease.
Enhanced by custom merchandising solutions, the Arctic Cat Gear Store is built to drive engagement and sales. With the help of professional product and lifestyle photography taken in-house, along with other enhanced product presentation features, we are able to create content that keeps the audience engaged.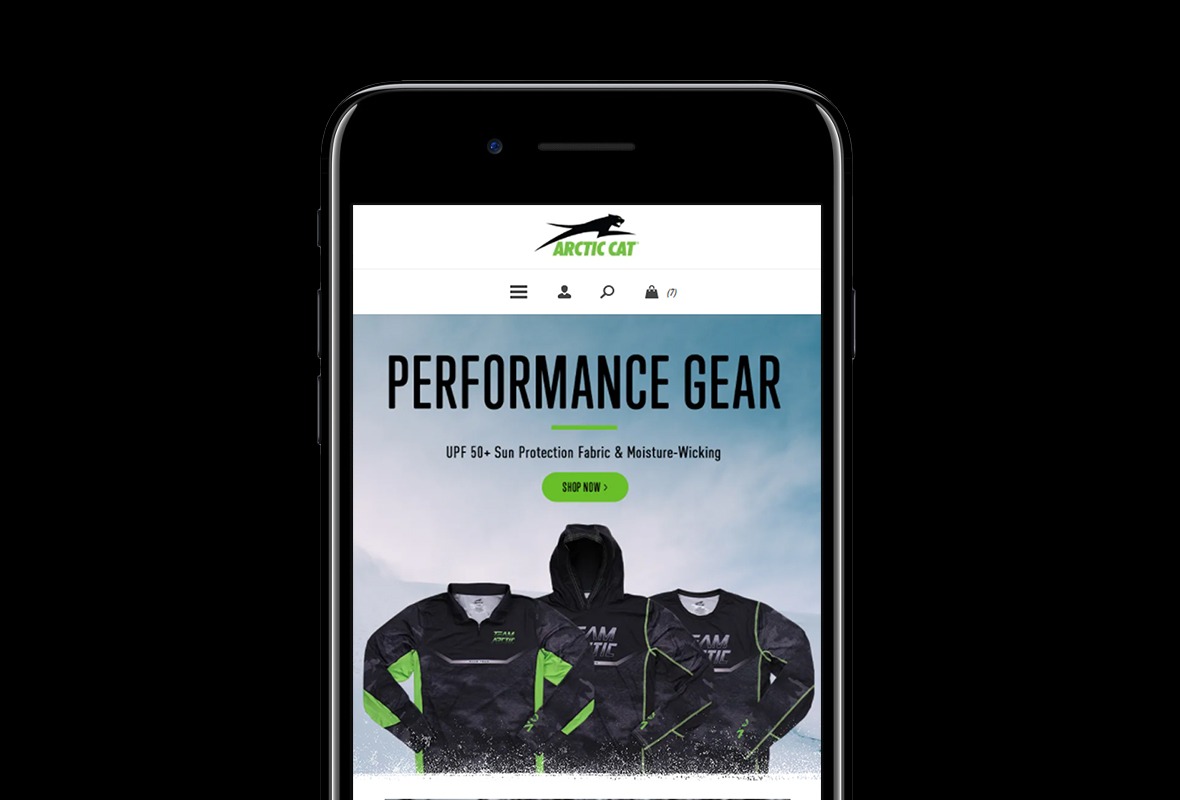 CONNECTING THROUGH MULTIPLE MARKETING CHANNELS
Engaging with Arctic Cat dealer, consumer, and corporate audiences
By utilizing Arctic Cat's unique brand essence paired with multiple avenues of engagement, we are able to create seamless, consistent contact with Arctic Cat's varying audiences. Whether it be through traditional print marketing (catalogs, flyers, posters) or through digital marketing (newsletters, social media, influencers, re-targeting) we map out and utilize the best ways to meet our audience's needs.
Along with marketing support, customer service is the backbone to making sure the Arctic Cat Gear Store is properly serving our customers. Our dedicated support team responds to emails and calls throughout business hours to assist in any customer needs.
of consumers access social media with their mobile device
of consumers find print to be the most trustworthy form of marketing
of consumers are likely to follow the recommendation of an influencer
FULL SUPPORT FOR MAJOR
ARCTIC CAT EVENTS
Support for trade shows, dealer events, and live events
With multiple live events throughout the calendar year, we work with Arctic Cat to drive on-site branded merchandise sales. From planning to merchandising, we house a full set of capabilities ready to deploy for any live event.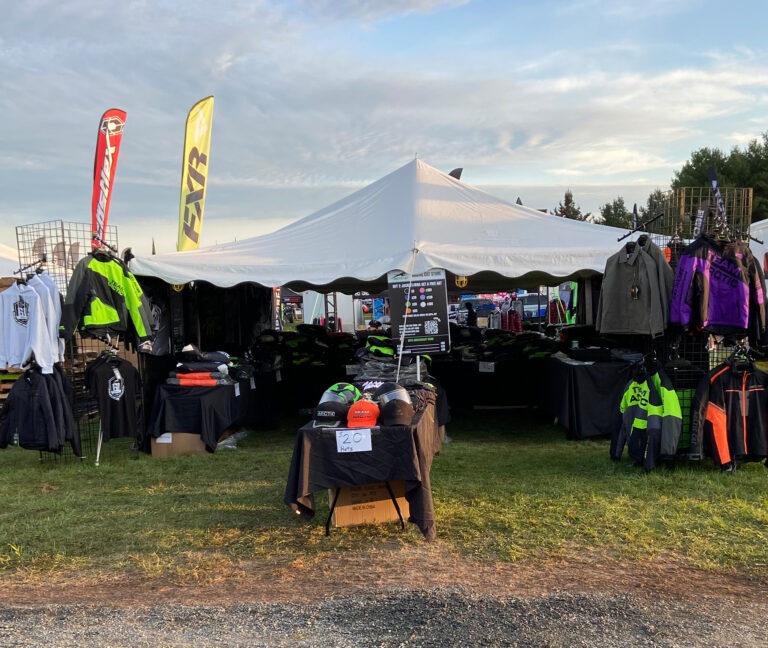 DIRECTED PROGRAM DEVELOPMENT
FOR DEALERS
Annual dealer buying program
With hundreds of dealers nationwide, it is important for Arctic Cat to provide a way for their dealers to consistently purchase branded merchandise for their local dealerships. To help dealers stay stocked with branded merch, we provide them the ability to purchase branded apparel and accessories year-round at discounted prices. To express our loyalty and appreciation to dealers, we also offer them an annual buying program period that allows them to order custom branded apparel, headwear, accessories and P.O.P items at even more discounted prices through the Arctic Cat Gear Store. During the buying program period, we provide product development, regular dealer outreach and support, production, warehousing and distribution. Taking on all tasks for the buying program in-house, we are able to create a seamless and timely experience for all Arctic Cat dealers.
directed program development
Interested in learning about how a Powertex e-commerce store could work for you?
All of our e-stores feature:
Custom branding and content
Enterprise features and functionality
Secure platform that protects customer data
Responsive and ADA compliant platform
Contact us today to begin your story today!